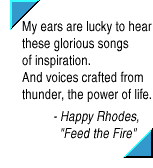 Welcome to the Ectophiles' Guide to Good Music! The Guide is our attempt to compile the many comments and recommendations about music and reviews of music made over the years by ectophiles everywhere into a useable format.
Ectophiles are members of the venerable fuzzy blue mailing list, ecto, which is a forum for the discussion of Happy Rhodes and many other, similar musical artists. For a better description of ecto and the ectophiles, see the Ecto Home Page, which also contains some handy "definitions" ;)
Guide mirror sites are now available.
PLEASE NOTE that the Guide is an ongoing project, and is far from completion. Many artists not already included are slated for inclusion in the future. These artists are listed along with those currently available in the alphabetical index.
---
Before delving into the Guide, be warned that there may be side effects! ;)

The Guide consists of the following sections:
What's new in the Guide - see which artists are new to the Guide or have been updated! You can also subscribe to the Guide to receive automatic email notification whenever Guide entries are added or updated.

Best of the Guide - compilations of Ectophiles' "best of" lists. See which artists or albums Ectophiles prefer in categories or by year.

The alphabetical index of all the artists listed in the guide. Useful if you want to see what ectophiles have to say about your favourite artists.

Artists listed by genre: Those annoying and often arbitrary categorisations which are, nonetheless, often helpful in locating new music. The world of ecto being what it is, you're likely to find some categories you've never seen in the stores!

Listings by commentator. Since the Guide is basically a compilation of ectophiles' comments and reviews, it makes sense that once you get a feel for which ectophiles have tastes closest to (or farthest from) your own, you might want to see what they say about specific artists. Comments throughout the guide are linked to this index, which also contains bios of commentators who have submitted them.

Countries of origin: Interested in finding out about ectophilic artists from Upper Thrombonia? Look here.

Find out about a new artist at random!

Be direct. Search the Guide entries for key words and phrases.

Submission guidelines for artists who want to be listed in the Guide or have something to say about their existing entry.

Yes, you too can contact the editors! Have something to say about the Guide? Please let us know of any omissions, mistakes or suggestions... or just show some appreciation. :)

Want to know who's responsible? The Guide is the brainchild of Neile Graham, but also involves a lot of other people.