damon
Please select an artist or group to the right! This commentator's bio is also available below.
---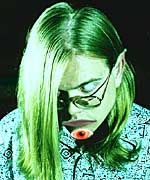 Damon Harper
http://www.usrbin.ca/damon/
I am probably most famous in the ecto world for my coining of the term EWS and my work on the Ectophiles' Guide site since Neile first announced the project back in 1996. I was also a regular in the glory days of the #ecto channel on IRC, where I was known as Kalaleq, and I was a part of ecto's brief foray into the world of MUSHes at TinyCWRU.
My musical tastes are reasonably eclectic, though I do tend to operate within certain boundaries. I find I usually have a hard time defining my musical tastes or talking intelligibly about why I like or dislike certain music, though I do have a propensity for verbosity and so I often expend quite a few words trying to overcome that inability. Doing Guide reviews has been an interesting exercise for me, but I've been finding some great music that way.
Due to the ongoing nature of the Guide, of course, many of my comments are quite out of date. One day I plan to go through my music collection and actually write something specific for each artist or group I like... also one day I plan to read all literature published after 20 B.C. And count the grains of sand in English Bay...
For better or worse, here's a full account of my CD collection.